Of the TV series that have featured Urban Slang (or so-called MLE, 'Multiethnic London English') for me none surpassed, in authenticity, ingenuity and hilarity, the sitcom PhoneShop*, broadcast on Channel 4 between 2010 and 2013. Writer and producer of the series, Phil Bowker tells me  'Like you, slang's something that has fascinated me since I was a kid growing up in Liverpool.'  It's a great privilege to be able to print here, with Phil's blessing, the script of this sequence intended for his follow-up satire on multicultural Britain for BBC2 The Javone Prince Show**, but never broadcast. Phil explains, 'I wanted to spoof the kind of BBC London style of hack news reporting but instead of the usual fayre of drugs and knives, I wanted to make it about slang.' Relish now for the first time this exposé of …Real Talk 'Slang'…
EXT. URBAN STREET
Andrew Milligan (Jason Barnett) is on a walk and talk.
ANDREW MILLIGAN
"Why is my man Parrin' me?" "Dat Gyal is pengalicious" "Watcha me come and lick off a ya headtop"            Words and phrases that you wouldn't particularly want to hear coming out of your child's mouth. But this is an everyday reality for thousands of parents across the Country as unscrupulous dealers are targeting our children at the very place where they're most vulnerable: The school gate.
We cut to a School sign and then back down to Andrew as he crouches down outside the entrance. The floor is littered with discarded pieces of paper the size of christmas cracker jokes. There are lots of 'capsules' around too. He reads a couple of them – sickened at what he sees.
ANDREW
Pagan, Sideman, Sket…. (earnestly) Lovely isn't it?
CUT TO:
INT.KITCHEN.
A mum (Debra Baker) Is interviewed in her spotless kitchen.
CONTINUED:
MUM
My 10 year old comes home, he calls his little brother a beg, calls me a slosher and tells me he's goin his drum to blaze…' What can I do about that? I ain't got a clue what he's talkin about….
Andrew Walk and Talk.
ANDREW MILLIGAN
We've all seen them plying their vile trade in pubs and car parks the length and breadth of the Country. The So called slang hawkers. You yourself may have even enjoyed using some casual slang at a dinner party. I'm ashamed to say, I have. I had bare laughs. But where does this slang come from? Who's selling it, and what is the real cost? To find out, I took to the streets.
EXT.STREET. NIGHT
CUT TO:
Shot from a first floor window, we see Andrew making a call from a phonebox.
DEALER
(Voice Disguised) What you after?
ANDREW MILLIGAN
I'm looking for a, uh maybe a five pound deal?
DEALER
Fuck off. (Bleeped) You couldn't even get a noun for that, you mug.
ANDREW MILLIGAN
What would, say £20 or £25 buy me?
DEALER
A small bag of verbs. Proper, good verbs, I don't fuck (bleeped) around.
ANDREW MILLIGAN
Sounds good my man, but how can I guarantee the quality of your slang?
DEALER
You heard of swag?
ANDREW MILLIGAN
Yes, Swag. I think I've heard Louis Walsh say it.
DEALER
That's one of mine.
ANDREW MILLIGAN
Wow.
Wide shot of Andrew waiting by the telephone box.
ANDREW (V.O)
In less than five minutes one of the dealer's word soldiers rode by on a stolen mountain bike.
We see a kid riding past on a bike throwing at book at him. Andrew bends down to pick it up (It's a dictionary) He opens it up to reveal a hollowed out centre with a small baggy in it.     He furtively looks around and then opens the bag, looking at the tiny pieces of paper with words written on them.
ANDREW MILLIGAN
(slightly out of breath) The dealer wasn't lying. There is a potency to this slang that I haven't seen before. I have to admit, it's quite thrilling.
INT. A STUDY
Talking head of Professor EB Black.
PROFESSOR
This is a massive problem we are sleepwalking into. Slang has been around for ever, but it was always kept at an acceptable level. It was fine for criminals, the working classes and immigrants but what we're seeing now is a huge middle class uptake – it's extremely frightening and this government needs to do something about it very quickly.                                I'm reluctant to use the word, but what we're facing, is an epidemic.
Andrew swings round to camera.
ANDREW MILLIGAN
But what the chickenclart can be done?
CUT TO:
Hard cut to archive. Police raid on property. Shot of battering ram hitting door.
POLICE
Police!! Put the pens down! Drop the Quills! I repeat, Drop the Quills…
We cut to people coming out with their hands on their heads. They are all wearing glasses or visors. They look disorientated.
GANG LEADER
I'll be back out on the streets in half an hour. You fucking rats.
He looks at the camera.
Penelope, get the bail money! It's in the study underneath Eric Partridge's Usage and Abusage….
ANDREW MILLIGAN (V.O.)
This slangmaster is facing a long "sentence" in a "pen" of his own making. But there is a way out. If not fi him, fi someone else.
CUT TO:
Talking head of reformed slang dealer Christian Gibbs.
CHRISTIAN GIBBS
I was always interested in language. The etymology, the syntax. Other kids would be out kicking a ball against a wall. I'd be indoors with me head in a thesaurus.
Andrew Milligan nods.
I started mucking around with slang. Making my own words up. Giving them away to mates in school. And then I realised. There was money to be made – and it went from there.
Andrew swings around to camera.
ANDREW MILLIGAN
Christian became so successful, within a year of selling his slang words illegally, he managed to buy his parents a new house, and was engaged to a Countdown semi-finalist. But things quickly went wrong.
CHRISTIAN GIBBS
I got greedy. I started mixing with the wrong people. I got too big too quick. At one point, I was running three or four terraced houses full of young academics twenty-four hours a day. I was effectively controlling most of the slang that was being sold in London. And then it all caught up with me.
EXT OF URBAN BASKETBALL COURT.
Christian is helping some young people to 'lay up'
ANDREW MILLIGAN
After a spell at her majesty's pleasure, Christian dedicated his life to helping the very people who once did his bidding in his urban slang factories.
CUT TO:
We see the trad shot of guys having fun. High 5ing etc
CUT TO:
Andrew Walk and Talk down an alley.
ANDREW MILLIGAN (cont'd)
Tragically, a few hours after that lay up we learnt that Christian's past had finally caught up with him and he was ambushed by a gang of rival wordsmiths in a back alley Scrabble game.
He arrives at the taped off crime scene. There's an abandoned Scrabble board and associated paraphernalia. He crouches down
ANDREW MILLIGAN (cont'd)
The last words he spelt out on the Scrabble board was a fitting testament to his memory: YOLO/ Gubati/Gggdedjs/
Andrew gets up and continues his Walk and Talk.
ANDREW MILLIGAN (cont'd)
So the next time you're at a dinner party or even a simple kitchen supper and somebody decides it might be 'fun' to pass the 'slang' around, remember the real cost and just say no.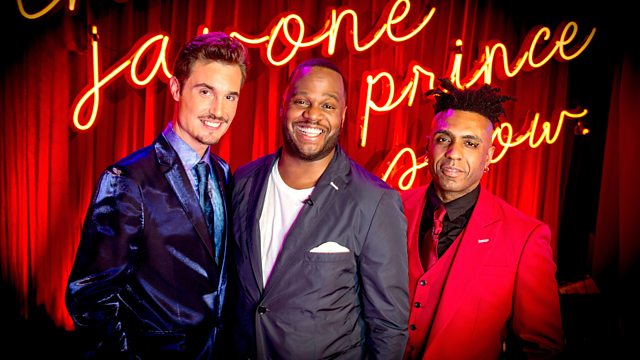 http://www.channel4.com/programmes/phoneshop
http://www.bbc.co.uk/programmes/b063hcgz