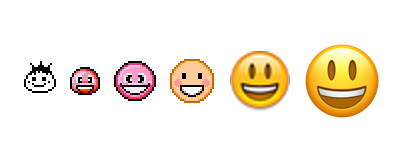 I have been asked by students and colleagues to write, very belatedly perhaps, about emoji. While searching for something novel and meaningful to say about the phenomenon, and looking for a stance to adopt in the (sometimes tedious) 'is/are emoji a language?' debate, I thought I would share  some first thoughts and a list of references (a personal selection from the mass of material recently published), to provide a shortcut for anyone else studying the subject…
AN EMOJI TIMELINE
1964 – the smiley face 😊 symbol invented by Harvey Ross Ball
1982 – (11.44am, September 19) Scott Fahlman of Carnegie Mellon University in the USA posts the first emoticon:  : – )
1989 – Internet acronyms (such as LOL, LMAO, WTF), having appeared on message-boards and in chatrooms since the mid-80s, spread rapidly across the anglosphere via text-messaging and email
1991 – the Unicode Consortium is founded to develop universal standards for Internet text-processing
1998 – Shigetaka Kurita invents emoji (= 'picture' + 'character') with 176 examples
2010 – Unicode adopt emoji, add hundreds more 😈
2015 – Unicode 8.0 releases new emoji range with skin tones,
2017 – Facebook processes 6bn messages containing emoji
2018  – 2823 emoji have been approved so far
HOW DO EMOJI FUNCTION?
They insert punctuating 'mood-breaks' into conventional sentences😠 in a sort of 'bimodal codeswitching'
They are to written communication what nonverbal cues – paralinguistic 'phatic-communion' (70% of emotion in real-life interactions is communicated nonverbally)– are to spoken communication, occupying the 'space between word and gesture', enabling 'visual small-talk'
They are 'tone-markers', introducing irony, sarcasm and emotion/'emotivity' to otherwise impoverished digital texts😍
They are 'gestural', functioning similarly to two categories of physical gesture: 'emblematic' which, like a thumbs-up or middle finger, are symbolic and culturally specific, and 'illustrative' which imitate real objects or movements
They (like graffiti, memes, GIFs), exploit an inherent human need for 'visuality', along with a more recent requirement for empathy, cultural allusion, humour and positive play😎 to create a new hybrid or multimodal digital literacy
 DO EMOJI HAVE ANY LASTING SIGNIFICANCE?
Can a hybrid transnational code help to change consciousness?
Do emoji reinforce (hyper)individualism and the establishing of hyperlocal communities of practice/microniches/meganiches?
Or could emoji move us further towards a collective global intelligence, a 'virtual communal brain'?
Are emoji 'hegemonic' in that they reinforce the priorities and power-relationships of consumer capitalism (they have after all already been appropriated by/commodified for marketing, advertising and manufacturing)?
Or are they 'antihegemonic'/subversive in that they disrupt😈 traditional discourse, empower individuals and new collectivities?
One of the best histories and overviews of the subject was provided by WIRED magazine earlier this year:
https://www.wired.com/story/guide-emoji/
Dictionary.com now have a guide to possible meanings and uses of the most important emoji (click on each): 
https://www.dictionary.com/e/list/emoji/1/
…I'm intrigued by the 'instabilities' in emoji meaning and the fact that 'emoji dialects' have been discerned:
http://www.dailymail.co.uk/sciencetech/article-3196583/Can-decipher-emoji-messages-Translators-11-regions-misunderstand-universal-symbols-hilarious-results.html
…and by such insights as these, from a feminist perspective, from Debbie Cameron:
https://debuk.wordpress.com/2017/09/10/are-women-over-emojinal/
…here's a curiosity, on 'professional emoji whisperer' Rachael Tatman:
https://www.seattlemet.com/articles/2017/12/19/meet-rachael-tatman-professional-emoji-whisperer
…from 2018, the first article so far, in the Telegraph, to focus on the committee that chooses new emoji:
http://www.telegraph.co.uk/men/the-filter/controversial-characters-secretive-committee-choose-new-emojis/
…brands are using emoji on Twitter:
https://business.twitter.com/en/blog/creative-roundup-examples-of-brands-using-emojis-in-their-twitte.html?utm_medium=organic&utm_source=twitter
From February 2019, an unusually negative view on how emoji have mutated, by Ian Bogost:
https://www.theatlantic.com/technology/archive/2019/02/how-new-emoji-are-changing-pictorial-language/582400/
This important title by Philip Seargeant appeared in July 2019:
https://www.cambridge.org/gb/academic/subjects/languages-linguistics/sociolinguistics/emoji-revolution-how-technology-shaping-future-communication?format=PB
Philip, with whom I have worked, is part of the team which has designed a course in emoji which is offered – free – by the Open University:
https://www.open.edu/openlearn/languages/brief-history-communication-hieroglyphics-emojis/content-section-0?intro=1
…any new thoughts on emoji interpretation, or additional links would be gratefully received! Here are the remaining links from the past year:
https://blogs.lse.ac.uk/impactofsocialsciences/2019/10/03/emojis-in-scholarly-communication-%f0%9f%94%a5-or-%f0%9f%92%a9/
http://ounews.co/arts-social-sciences/art-literature-music/what-emoji-can-teach-us-about-human-civilization/?utm_medium=social&utm_campaign=SocialSignIn&utm_source=Twitter
https://www.nytimes.com/2017/08/25/books/review/wordplay-emoji-slang-puns-language.html?emc=edit_tnt_20170825&nlid=67701160&tntemail0=y
https://www.youtube.com/watch?v=_tTXLuZHYf4&t=4s
http://blog.oxforddictionaries.com/2015/11/emoji-language/?__prclt=S8d1uceQ
https://www.languagemagazine.com/emojis-and-the-language-of-the-internet/
https://www.wsj.com/articles/the-merperson-comes-to-emoji-1495808225
https://stronglang.wordpress.com/2017/03/14/the-whimsical-world-of-emoji-swearing/
http://www.telegraph.co.uk/films/0/emoji-taking-world/
https://www.tes.com/news/school-news/breaking-views/tes-talks-vyvyan-evans
https://theconversation.com/why-decisions-on-emoji-design-should-be-made-more-inclusive-80912?utm_campaign=Echobox&utm_medium=Social&utm_source=Twitter#link_time=1500025713
https://www.theguardian.com/technology/audio/2017/jun/23/emoji-dr-vyvyan-evans-language-tech-podcast?CMP=share_btn_tw
http://www.dailymail.co.uk/sciencetech/article-4545752/The-different-factors-influence-emoji-choice.html
https://phys.org/news/2017-05-linguistic-emojis.html
 http://www.abc.net.au/news/2017-04-07/how-emojis-can-help-children-learn-and-communicate/8425482?pfmredir=sm
https://www.nytimes.com/2017/03/14/fashion/grindr-gay-emoji-gaymoji-digital.html?_r=0
http://www.nowherethis.org/story/emoji-linguistics/
https://theconversation.com/signs-of-our-times-why-emoji-can-be-even-more-powerful-than-words-50893
https://rightsinfo.org/emoji-global-language-cultures-left/
…in 2018, at long last, we gingers were validated:
https://www.yahoo.com/news/redheads-most-triumphant-reactions-getting-160249172.html?soc_src=hl-viewer&soc_trk=fb
…and here's more on the 12.0 release upcoming in 2019:
https://www.standard.co.uk/tech/new-emojis-2019-how-to-use-a4061471.html
The latest on emoji as gesture, from internet linguist Gretchen McCulloch:
https://theconversation.com/emoji-arent-ruining-language-theyre-a-natural-substitute-for-gesture-118689
US language specialist Ben Zimmer's son claims that this, the suspension railway, is the least used emoji:

And in Spanish and Italian, this is the emoji version of the coronavirus:
From July 2021: when the emoji You want doesn't exist yet:
https://www.bbc.com/news/technology-57848226
And in August 2021 Benjamin Weissman summarises much of the above:
https://www.theguardian.com/commentisfree/2021/aug/10/emojis-debasing-language-symbols-communication
In January 2022 a report from Japan considered the range of emotions currently reflected in the emoji repertoire:
https://digest.bps.org.uk/2022/02/04/do-emojis-represent-the-whole-gamut-of-human-emotion/
And in August the Emojipedia site was updated:
https://blog.emojipedia.org/new-emojipedia-frontend-features/