President of the European Commission, Eurocrat par excellence and Brexiteers' bugbear, Jean-Claude Juncker raised a laugh in Florence a couple of weeks ago with his public provocation, opining that post-Brexit the English language would lose its status as the EU's de facto lingua franca. IMVHO he's probably wrong: even in his native Luxembourg (first language Luxembourgish, a Mosel-Franconian dialect of German) one fifth of the population currently claim to use English for everyday communication and three quarters say they speak it fluently.
In the wider EU 46m Germans and 23m French citizens are estimated to have a good command of English, 38% of the remaining nationalities, too. Only 12% over-all claim fluency in French and 11% in German. In Brussels and Strasbourg,  the cities where EU business is primarily carried out, English is, in the Eurocrats' jargon a relay language, an intermediate code used in meetings, in corridors and in cafes by those for whom it is a second or third language. This is especially the case for those coming from the more recent member states who are generally reluctant to embark on learning French or German when English is already familiar from school, university and from exposure to popular culture.
In fact, the language actually used beyond the formal speeches and official documents is an odd sort of English-based hybrid sometimes known as Euro-speak, laced with 'continental' usages (alien to native speaker English but common to other European tongues) whereby terms like subsidiarity, conditionality and conventionality are exchanged and standard English words shift in meaning so that control comes to mean check, assist means attend, execute means carry out, actual replaces current and resume can mean both re-start and sum up. Perhaps in time it is this dialect which will come to dominate in practice while the official languages remain as they are today. Well-meaning attempts to introduce an alternative common language have so far come to nothing. A petition calling for the artificial language Esperanto to be added to the official list has received only 12, 383 signatures to date – in an EU population of around 450m.
In the Guardian this week Tess Reidy has been considering the fate of English post-Brexit and pace Juncker, with the help of experts and some contributions by me. Her article is here…
https://www.theguardian.com/education/2017/may/24/which-language-would-ease-our-way-in-the-post-brexit-world
Last year Mike MacKechnie listed some of the Euro-English terms that puzzled 'native-speakers' have to contend with:
10 Funny Euro-English Words We Might Hear More Often If The UK Leaves the EU
The EU is well aware of the peculiarities and idiosyncrasies of its own communication practices, as evidenced by its recognition of the jargon issue…
http://termcoord.eu/2014/06/eurojargon/
Though it took the BBC to decode the global English jargon of the Davos summit:
http://www.bbc.co.uk/news/business-42791874
Here from the European Court of Auditors is a very useful guide to EU misuses of the English language…
https://wordstodeeds.com/2017/06/02/guide-to-misuse-of-english/
Here are some further thoughts from Marko Modiano of Gävle University, published in September 2017…
http://onlinelibrary.wiley.com/doi/10.1111/weng.12264/full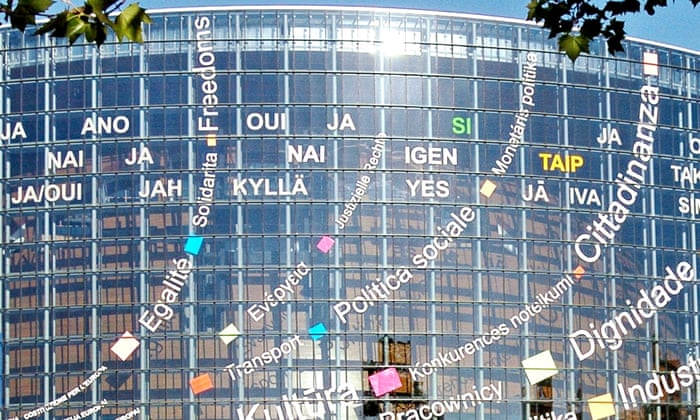 And, in November 2017, a challenging, if possibly slightly tongue-in-cheek suggestion from Italy…
http://www.telegraph.co.uk/news/2017/11/25/eu-should-force-uk-give-us-english-language-brexit-former-italian/
Michael Swan took issue last year with the way the notion of 'English as a Lingua Franca (ELF)' is often presented…
http://www.eltresearchbites.com/201802-rethinking-english-as-a-lingua-franca/#comments
Here, should there be any doubt, is the confirmation, from Esther Bond writing in slator,  that English is not about to lose its official status…
https://slator.com/demand-drivers/eu-provides-clarity-on-post-brexit-future-for-english-language/
For any readers who are actively engaging with EU and other terminology (as translators, interpreters or proofreaders for example), here's a useful list of online resources…
http://albionlanguages.com/best-online-terminology-resources/
And finally, for now, from November 2019, an article by EU translator Hannah Critoph addressing the difference between 'Eurish', 'Globish' and 'natural English'…