Much of the vocabulary of MLE, the speech variety known as Multiethnic or Multicultural London English, derives (not always straightforwardly) from Caribbean or Black British usages, or from London's white 'working class', often dubbed 'Cockney,' argot. There are, however, a number of slang expressions, used in the school playground and on the street by younger speakers, which come from elsewhere in the UK's language matrix, even from archaic or foreign sources. Here are some examples…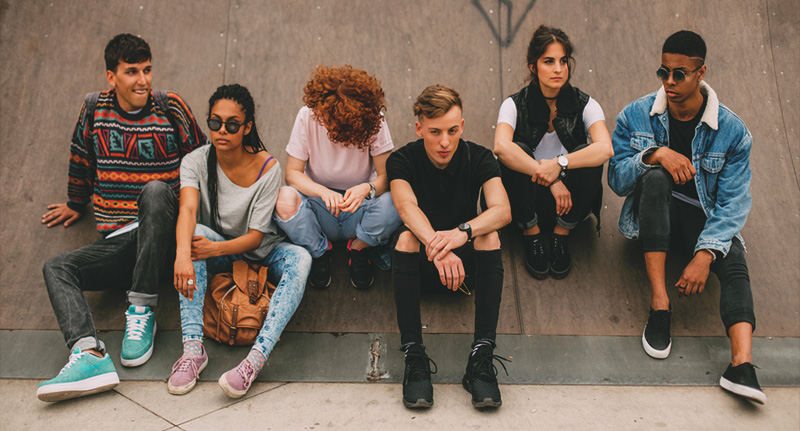 Feen (n)
Means: a male person
Usage: "Who's the feen over by the gate?"
The proper names for Yoofspeak, so linguists tell us, are MLE (multi-ethnic or multicultural London English) or UBE (urban British English, with 'vernacular' sometimes substituted for English), but not all playground language emanates from the larger cities and ethnic or 'cultural' doesn't only mean Afrocarribean or Asian.
One term that's widely used around the UK is rarely if ever heard in the Smoke, but belongs to a 300 year-old tradition. Feen, also spelled fein, has been borrowed from the slang of Travellers, the argot formerly used by Tinkers and known as Shelta, itself deriving mainly from Irish Gaelic. In Irish feen simply means "man" but in slang it sometimes has the extra senses of "stranger" or "rogue". Don't confuse this with the verb "to feen" (sometimes "feem"), a modern import from US street-talk, which is an alteration of 'fiend' and means craving for, or obsessing over, as in "I'm feenin' for some weed" or "he's feenin' over that new girl."
Hollage (n)
 Means: something hilarious
 Usage: "Have you seen Charlotte's latest outfit? Très hollage!"
 Posher teens have their own version of yoofspeak, their own mix of would-be street slang, babytalk and invented expressions, typically in the form of girly yells of approval (by both sexes) and squeals of delight (ditto).
When the denizens of the middle-class playground are trading witticisms a favourite trick is to insert touches of French – the odd real word ("quelle disaster", "beaucoup trouble") and Franglais pronunciations. "Rummage" (sex), and "bummage" (enthusiasm) have been frenchified, but current favourite is "hollage", meaning huge amusement or hugely amusing, pronounced to rhyme with English "college" or like French "collage", or, some young purists insist, as three-syllable "holla-age".
It looks as if the little sophisticates have adapted "holla", (the hip-hop version of "holler", meaning to yell), one of cool Yoof's iconic expressions from the noughties, and slightly misunderstood it in the process, since it originally described phoning, praising or seducing rather than braying with laughter. In the US the very similar-looking "holla-age" has indeed been used to describe "the appropriate way to acknowledge or compliment a female."
Dinlo (n)
Means: an idiot
Usage: "You can tell Callum anything and he'll believe it, he's a right dinlo."
Some linguists are claiming that far from dying out, regional dialects – and that includes local slang terms – are being helped by messaging, chatting and tweeting on social media sites, as well as old-fashioned word of mouth – to spread further across the UK. A probable example of this is yet another term for a complete dope, or dupe, (in practice nearly always male) which originated in Romany (and not in Cantonese as claimed on Urban Dictionary) as dinilo and has long been in use from the New Forest, via Portsmouth's 'Pompey – slang' to East Anglia. Dinlo(w) is the usual form, although "dinler", "dindler" and "dingle" have also been recorded. Yoof elsewhere have now added these to their already rich lexicon of insults, sometimes abbreviating to "dinny" or just "din".
Trek (v,n)
Means: (to go on) a long and tedious journey
Usage: "Man we been trekkin' for hours!" "From her endz to ours is a trek."
Researchers into Yoofspeak will know that in nearly every batch of new expressions offered up as the latest teen lingo, there are one or two which are not really slang at all. This is because most of the younger generation are not familiar with them and don't realise that they are standard English: also, to be fair, because they sound and look exotic, possibly subversive to the uninitiated. "Trek", used more or less in its original sense is a popular feature of playground complaints – the moaners probably don't know much Afrikaans (from which we got the word), and even Star Trek the Prequel is a distant memory. More recently the word, or the variant "treks!" can be an exclamation, declaring that something, not necessarily a journey, is too tiring or boring to bother with or to finish, but one post on Urban Dictionary defines it much more specifically – and perhaps just slightly more positively – as a "4-10-mile" walk undertaken to counteract the effects of drugs or alcohol.
Examples of the same phenomenon are "luka" or "lookah", used by some London kids to mean money, which seems like Multiethnic dialect but is really the picturesque old phrase 'filthy lucre' after a makeover. (Oddly, in the US, the Slavonic boy's name Luka seems to have been conflated with the colloquial "looker" to denote an attractive male.) "Burly", which one user explained as a blend of "beautiful" and "gnarly", expresses admiration for a tough-looking male, and "reek" as in "Ben's room really reeks" is also considered a really cool novelty. (Incidentally and tangentially, adult informants tell me that for them "reek" mainly registers these days as the name of a character in TV fantasy Game of Thrones, or as a mistyping of 'wreak.')
(These terms were first recorded in my Youthspeak column in the TES)