I have been collecting new and controversial language generated by the rise of conservative populism in the US and the UK, by pro- and anti-Trump sentiment in the US and by the divisions resulting from the UK's Brexit vote. This is a work in progress: the preliminary list of terms as it stands is below. Soon I plan to offer detailed definitions and comments (for example, the second word in the list is my own invention, intended to describe a statement, act or policy showing effrontery, and itself a deliberate affront to a section of the population) and a 'lexical' categorisation (into 'jargon', 'slang, 'catchphrase', cliché, for instance).
***Please do contact me with new examples, with comments and with criticism, which will be gratefully acknowledged and credited.***
Accelerationist
Affrontery
Airfix patriotism
Alpha
Alt-centre
Alt-right
Anglosphere
Annexationist
Antifa
Anywheres
Astroturfing
Attitudinarian
Australia-style deal
Autohagiography
Backstop
Bad actors
Based
Bed-wetting
Beta
Beyond satire
Birtherism
Bitterites
Black ops
The Blob
Blowback
Bot
Both-sidesism
Breadcrumbs
Brectum
Bregressive
Bregret(s)
Bremain
Brengland
Brexiles
Brexit dividend
Brexiteer
Brexit means Brexit
Brexit ultras
Brexmageddon
Brexmas
Brexodus
Brexpats
Brexshit
Brextension
BRINO
Britain deserves better
Bubble
Butthurt
Cakeism
Calling out
Canada plus plus plus
Cancel culture
Canzuk union
Centrist dad
Cherry-picking
Chumocracy
Civics
Civility
Classist
Cliff-edge
Clown car
Clown country/state
Clusterbùrach
Cognitive warfare
Collective narcissism
Compassion deficit
Consequence culture
Copaganda
Cosmopolitan
Corbynista
Corporatocracy
Coup
Courtier journalists
Crash out
Cronyvirus
Crowdstrike
Crybaby
Cuck
Culturalism
Cultural marxist
Culture warrior
Dark forces
Datagrab
Dead cat strategy
Death cult
Deepfake
Deep state
Defund
Delegitimizer
Deplorables
DEXEU
Disaster capitalism
Disinformation
Divorce bill
Do-gooder
Dogpile
Dog-whistle
Double down
Doxxing
Drain the swamp
DREAMer
Dumpster fire
Echo-chamber
Economic nationalism
Economically inactive
Elite
Empty chair
Enablers
Enemies of the people
English exceptionalism
Ergo decedo
Establishment
Ethnics
Ethnonationalist
Ethno-state
Factuality
Fake news
Fall off a cliff
False flag operation
Fash-adjacent
Fashy
FBPE
Feminazi
Finger-sniffer
Firehosing
Flextension
Flooding the zone
Fractionate
Fratriarchy
Frictionless
Frit
FUD
Gammon
Gammonista
Gangster state
Get it done
Girly swot
Global Britain
Globalist
GNU
Guardianista
Hard Brexit
Hate goblin
Hatriot
Henry VIII powers
Heterophobic
High-vis nazis
Hobbit
Homonationalism
Hopepunk
Hose it down
Hybrid threats
Identitarian
Idiocracy
Illuminati
Incel
Indicative vote
Individual-1
Jambon jaunes
Jexodus
Kayfabe
Kicking the can down the road
King baby
Kipper
Kipper moment
Kompromat
Leave means leave
Leftwaffe
Lentil-weaving
Level up
Lexit
Libertarian
Libtard
Limp-wristed
Little Englander
Londonistan
Long coup
Low-energy
Luftwaffle
MAGA
Magic Grandpa
Magic money tree
Majoritarian
Man-baby
Mangina
Manosphere
Masculinist
Matrixed
Maybot
Meaningful vote
Mediaeval methods
Melt
Meninist
Metropolitan
Microaggression
Militarised nostalgia
Milkshake(d)
Momtifa
Moral emptiness
Moral grandstanding
MSM
Nanny state
Nativist
Necrocapitalism
Neglexit
Neon nazis
Neutrollization
No-deal
No-platforming
Normie
Nudgism
Offence archaeology
Optics
Ostentatious meekness
Oven-ready
Overly purist
Overton window
Palaeoconservative
Pearl-clutching
People's vote
Performative allyship
Pile on
Political correctness
Post-liberal
Postmodern
Post-truth
Project Fear
Prozac leadership
Pushback
Put/stick that on the side of a bus
QAnon
Quitlings
Rabble
Race to the bottom
Red lines
Red pill
Red wall
Regrexit
Rejoiner
Re-leaver
Remainiacs
Remain plus
Remoanathon
Remoaner
Replacement theory
Reply deboosting
Resistance
Restorative nostalgia
Retconning
Revoker
Roll back
Rootless
Row back
Russian asset
Saboteur
Sadopopulism
Safe space
#ScumMedia
Sealioning
Shadow blocking
Shallowfake
Shill
Shire
Shitposting
Shitshow
Singapore-on-Thames
SJW social justice warrior
Skilling up
Skunked term**
Slave populace
Sleaze
Snowflake
Sobersides
Sockpuppet
Soft border
Soft Brexit
Somewheres
Sovereignty
Soy-boy
Spartan phalanx
Spiv
Star Chamber
Sunlit uplands
Svengali
SWERF
Taking back control
Tankie
Targeted individual
Techno-feudalism
Tender-age shelter
Terf
Terminability
Throw under the bus
#tfg, 'the former guy'
Tick tock
Tigger
Tofu-eating
Tone deaf
Tone policing
Tory scum
Toxic positivity
Transition period
Trexit
Triangulation
Tribal(ism)
Trickle-down pathology
Troll farm/factory
Truth-squadding
Tufton Street
Tu quoque
Unicorns
Unspin
Urban
Values voter
Vassal state
Verbal incontinence
Vigilante journalism
Village idiot
Virtue-signalling
Walk back
War cabinet
Watch-list
Weaponised*
Wedge strategy
Whataboutery
White supremacist
Will of the people
Wokescold
Woketard
Woke warriors
Woke-washing
Workington man
Yoghurt-knitting
Zealot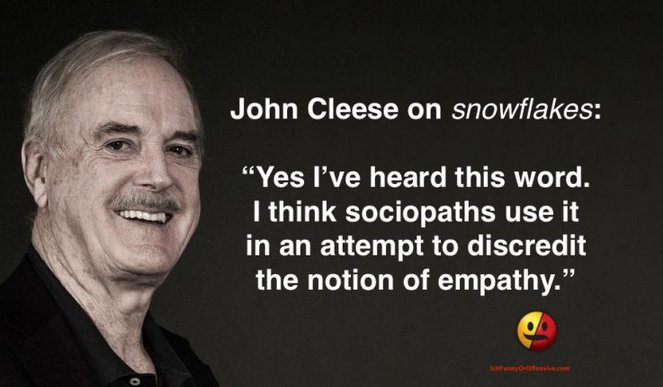 I'm grateful especially to the many contacts on Twitter who have already contributed to this modest project, particularly Duncan Reynolds @duncanr2, and will credit them all by name/handle when a final version is published.
I'm also very grateful to Rob Booth and the Guardian who, in October 2019, wrote about the glossary and its topicality in increasingly conflicted times:
https://www.theguardian.com/politics/2019/oct/05/brexitspeak-brexit-vocabulary-growing-too-fast-public-keep-up
And to Carlos Fresneda for this piece in El Mundo:
https://www.elmundo.es/internacional/2019/10/17/5da765cf21efa0eb618b4680.html
Artist Simon Roberts has kindly shared with me his artworks based on his own lexicon of Brexit language:
For readers, students, and researchers interested in or working with this topic here are some of the other articles and sources to consider…
In February 2017 The New European published its own very useful lexicon, from which I have drawn, gratefully but without permission :
https://www.theneweuropean.co.uk/culture/the-new-lexicon-of-hate-a-disturbing-a-z-of-alt-right-language-1-4894833
And the BBC listed many of the technical – and some less technical – terms associated with Brexit earlier this year:
https://www.bbc.com/news/uk-43470987
Last year Karl McDonald discussed the language used by Labour party leftists in the i newspaper:
https://inews.co.uk/news/politics/slugs-melts-inside-language-culture-corbynite-left/
And here's Helen Lewis in the New Statesman on incivility in the UK:
https://www.newstatesman.com/politics/uk/2018/08/how-britain-political-conversation-turned-toxic
And Philip Seargeant on 'fake news':
In November 2018 The Guardian published a useful 'jargon-buster' guide to the terms being used at this late stage of (or impasse in, if you prefer) UK-EU negotiations:
https://www.theguardian.com/politics/2017/jun/19/brexit-phrasebook-a-guide-to-the-talks-key-terms
Here Renee DiResta describes the ongoing 'Information War(s)' of which the manipulation of language is one component:
https://www.ribbonfarm.com/2018/11/28/the-digital-maginot-line/
I have only just come across this perceptive essay from 2017, by Otto English on his Pinprick blog, in which he coins the terms Ladybird libertarian and Ronseal academic:
Ladybird Libertarians: Dan Hannan, Paddington and the pernicious impact of 1970s children's literature on Brexit thinking
In January 2019 James Tapper contributed this very perceptive assessment of Brexit metaphors:
And in March, more from the BBC:
http://www.bbc.com/culture/story/20190314-how-brexit-changed-the-english-language
In July 2019 the FT ran an interesting review of Boris Johnson's press articles as precursors of 'fake news':
https://www.ft.com/content/ad141e8a-976d-11e9-9573-ee5cbb98ed36
And in October of the same year David Shariatmadari and Veronika Koller considered Brexit metaphors:
Brexit and the weaponisation of metaphor
*The progressive weaponisation of language is discussed here by Justin Strawhand:
https://www.huffpost.com/entry/weaponized-language_b_1380788
**'Skunked terms' are words or expressions undergoing a controversial change in meaning. Examples are 'liberal' and 'libertarian' which have transitioned from referring to leftist, progressive or centrist positions to denote neo-conservative or alt-right affiliations. Nearly two years on from my original post the useful designation 'anglosphere', describing English-speaking nations with shared cultural features, has been co-opted by far-right nativists in the UK to promote a supremacist ideology.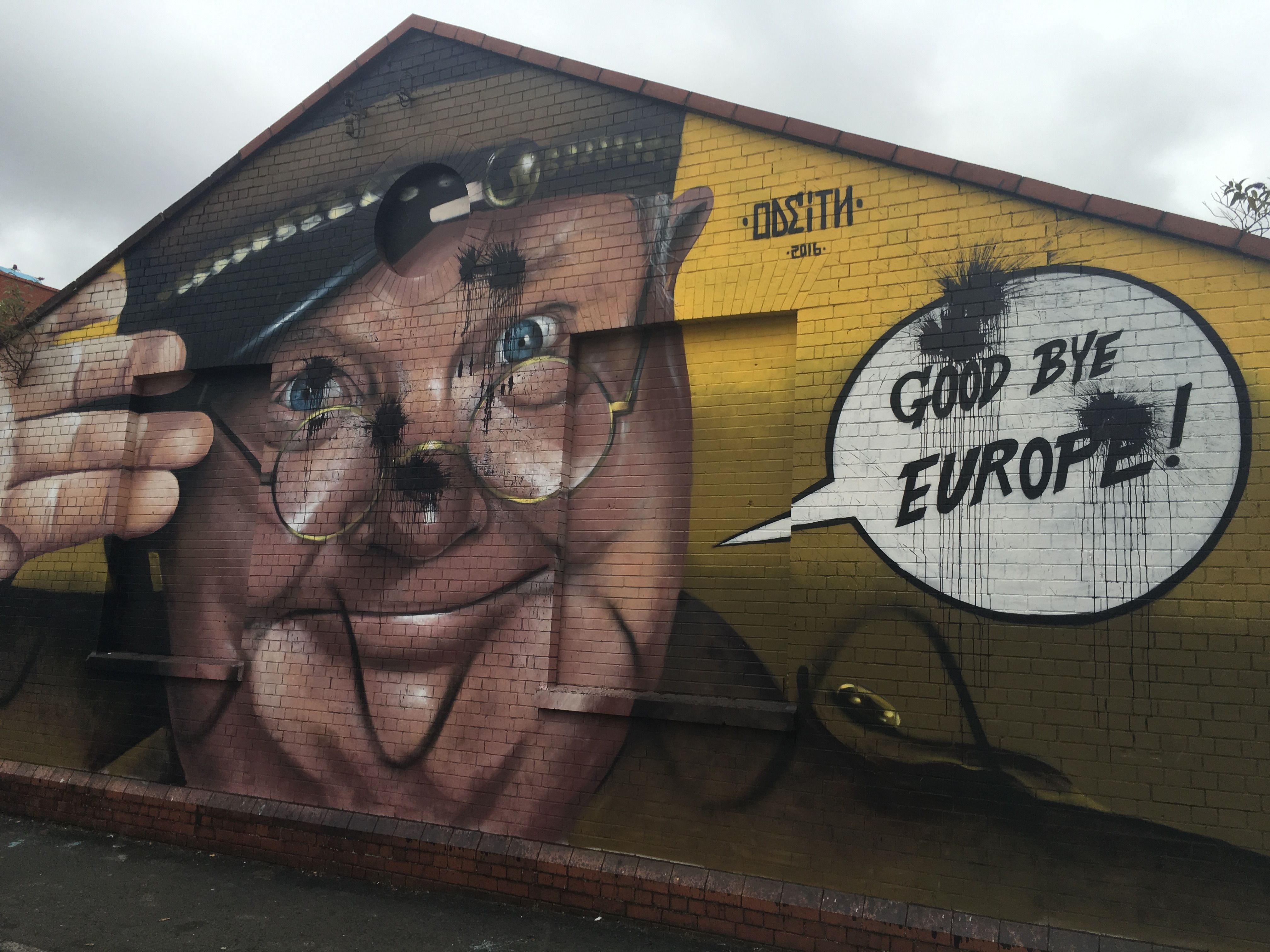 As a further footnote, this from Twitter in November 2020 (thanks to Alan Pulverness), a reminder that weaponised words may also be frivolous – even puerile: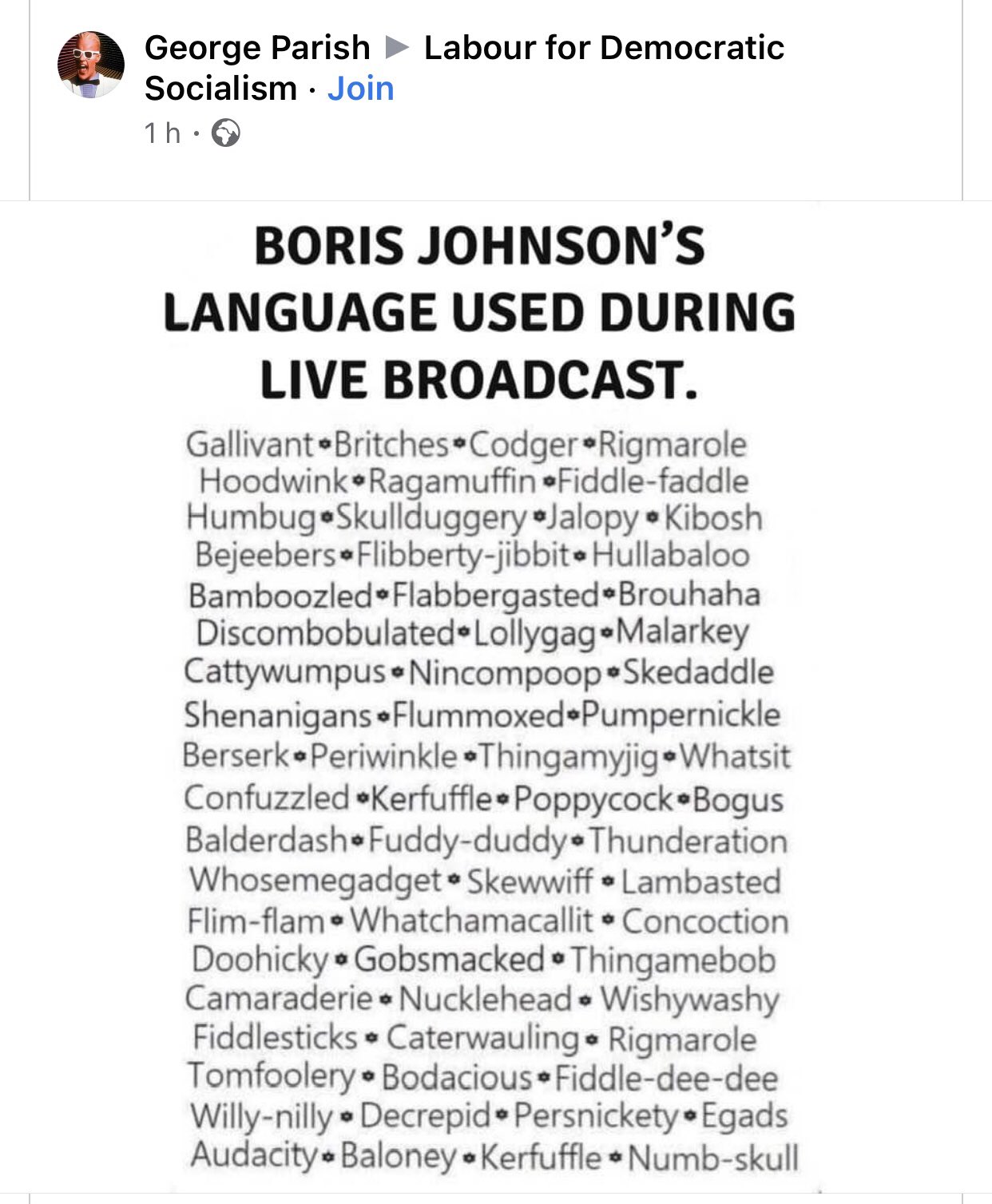 And finally, from 2016, a prescient tweet by Gary Kasparov: